Thank you for your interest in Safety Awards Programs.
We believe this will be helpful when developing your individual program.
Purpose of a Safety Awards Program
The purpose of a safety program is to encourage employees to exercise greater care and be more conscious of hazards so that the number of accidents will be reduced.
Accidents often occur because people are being careless, or are not concerned that they may be putting themselves or others in danger. Workers need to be constantly reminded of the hazards that are around the workplace. Rewarding them for safe behaviour only emphasises the importance of safety in the workplace. It will create a much safer environment for all workers and save you money in the long run.
Who Needs a Safety Program?
Any time you have a large group of employees working together in a workplace that has potential hazards; a safety award program is a good idea. Typically organizations that have more than 100 employees, who may use heavy or dangerous equipment, or do shift work.
Organizations such as:
Manufacturing
Oilfield
Construction
Transportation
Trades
Fishing
Mining
Agriculture
Utilities
Service
Government
Industrial
Why Safety Programs?
A well designed program provides benefits for both the employee and employer. It helps lower the risk of work place accidents and deaths. It also means less time lost on the job and lower insurance claims.
Direct costs:
Higher worker compensation payments
Higher insurance rates
Payment to injured employees
Indirect costs:
Lower productivity levels
Work stoppage or interruptions
Higher cost of temporary help
Accident associated paperwork
Damaged equipment
Training new employees
Lower morale
2014 Occupational Health and Safety Statistics – initial analysis
The following is an initial analysis of the 2014 Occupational Health and Safety data from the Workers' Compensation Board–Alberta (WCB–Alberta).
The provincial lost-time claim rate for 2014 was 1.31 per 100 person-years, a decrease of 2.9 per cent from 2013
The provincial disabling injury rate for 2014 was 2.63 per 100 person-years, a decrease of 1.4 per cent from 2013 (attached, Table 1).
The number of lost-time claims decreased by 0.2 per cent in 2014, from 27,619 to 27,577 claims. The number of modified-work claims increased by 2.1 per cent in 2014, from 43,428 to 44,359. The combined measure of disabling injury claims increased by 1.4 per cent in 2014, from 54,500 to 55,245.
Estimated person-years figures for Alberta increased by 2.9 per cent in 2014.
The number of fatality claims decreased by 10.1 percent in 2014, from 188 to 169
The provincial fatality rate decreased by 12.6 per cent to 80 fatalities per million person- years in 2014.
Occupational disease continued to be the leading cause of worker death in 2014, accounting for 47.9 per cent of all occupational fatality claims, followed by workplace incidents.
How to Create a Successful Safety Program
Budget – first determine a budget for the safety award program. Estimate approximately how many awards you expect to hand out per year and then calculate the cost per person that you can spend on each award.
The rewards used in the program must be strong enough to influence behavior or the program will not succeed. If the budget is not sufficient to provide adequate incentives for participants, it will typically not change habitual behaviors.
Make sure rules are fair and easy to understand.
Keep it simple.
Allow everyone who performs well to earn a reward.
Award on a regular, predetermined schedule so that good habits are established.
Focus on employees doing things right.
Don't always recognize the best employee. Look for ways to encourage a poor performer as well as they will tend to work harder.
All levels of management must be on board with the program prior to implementation, otherwise it will not work.
Communicate your safety program on a consistent basis. Speak of it daily, remind your employees to work safely. Share lessons learned and celebrate employees who stand out as safety models and leaders.
Take the time to listen to your employees concerns. If they are telling you that things are not working properly, listen and take action when appropriate.
The 3 R's – Relevancy, Repetition and Reward will help you achieve your goals.

Relevancy means you must create a theme for your program that the workers can relate to and reflects their language and values.
Repetition means you have to deliver your message again and again with variations of your safety message so it retains their interest while reinforcing the objective.
Reward means they clearly see their payoff for working safely in terms of their lives and their prizes.
Reward Behavior
When setting up your program, each company will have their own unique levels that they expect their participants to achieve. Some suggestions are:
Achieve a safety record that equals or exceeds a level considered satisfactory by the client
Being a member of a safety team that practices safety improvement ideas and implementation
Being certified in first aid and CPR
Member of a safety committee
Reaching quarterly or monthly goals of NO recordable accidents
Improvement over prior period
Peer to peer recognition
Good behavior
Reporting near miss
Developing an action plan to eliminate a hazard
Submitting safety improvement ideas
Actual Rewards
There are two ways to reward your employees.
Cash
Tangible items – gifts, or rewards. Items can be company promotional products, electronics, clothing, jewellery, etc.
Cash
Pros: Some companies feel money is a great incentive because it is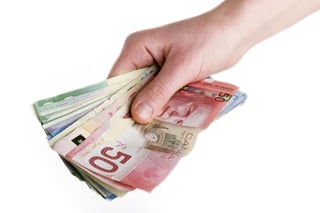 Simple to use.
The bearer can choose to do with it what he/she chooses.
Cons:
When money is given out consistently, it becomes an entitlement, not a reward.
It quickly loses its motivational ability.
It does not last.
Often spent on groceries or the utility bill.

Tangible Items
Pros: Tangible items or "incentive based premiums" can be effective.
These items stay around longer than money.
They have a gift nature which adds to the specialness of the reward.
They serve as symbols of success.
They are more creative.
Are more likely to stimulate excitement.
Can have a higher perceived value than what they actually cost.
Are gifts without the guilt of how money should be spent.
Are less likely to encourage cheating within the program.
Employees and their families are constantly reminded of the incentive each time they use the gift.
Cons:
Ensure you choose the right rewards for the program. The rewards need to be strong enough to influence habitual behaviour, and provide adequate incentive for participants.
How Level 2 Can Help
Once you have the basic outline of your program developed (budget, timeline, goals, etc.), we can help you put together the tangible rewards that will wow your participants. We will work within your budget, can create catalogues of the products and also work with you on the different procurement methods available.
Contact us today for more information, and assistance on developing the right program for your team.